Pasture-Raised Meat and Eggs for East Texas and Shreveport
Where to Buy Our Meats and Eggs
Visit our new online store to see what's in stock and to learn about local pickup options!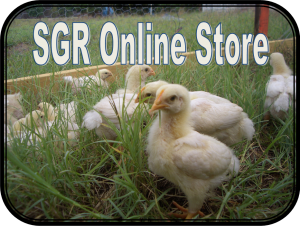 We primarily sell direct to consumer, but have several stores in the East Texas/Shreveport area that carry a select number of our products. Click on the city closest to you to find out what's available for your area. Sign up for our newsletter for email notice of deliveries, specials, and events.
Out of area? Click here to learn why we don't ship and how to find food in your local area. You can still benefit from our newsletter to get recipes, to learn about real farming practices, and just to stay in touch! Please opt out of non-relevant regional reminders to help us keep our newsletters out of spam filters!
What makes Shady Grove Ranch so different?
Our primary focus is on natural nutrient-density. To achieve this in our cows, pigs, chickens, and turkeys, we utilize these four principles:
1. Totally rotational management.
2. Free-choice, top-quality mineral availability.
3. Adequate finishing time.
4. Pasture-thriving breeds.
These four things ensure well-marbled, great-tasting meat and eggs that are produced without chemicals, growth stimulants, or drugs and that are tender, juicy, and easy to cook. Subscribe to our newsletter to learn more about how we raise great-tasting meat!
Do you have to buy a quarter cow?
No, but you can! We sell both by-the-piece and in bulk. Read about the benefits of buying in bulk below, or check out our downloadable price sheets for by-the-cut options in the sidebar.
Bulk packages are available year-round and provide some custom options. Listed prices are all-inclusive. No charge for delivery.
More about who we are:
Shady Grove Ranch is a 103-acre naturally-managed farm owned and operated by the Cadman family in Jefferson, Texas. We are dedicated to producing excellent-quality healthy meats and eggs. We raise our animals using common-sense practices, with a strict focus on natural nutrition and rotational management. All of our cows, pigs, chickens, and turkeys are raised outdoors with exposure to forage, sunshine, and fresh air. They are rotated regularly across pasture and fed a diet appropriate to their species, self-harvesting when practical. They are humanely managed, never routinely medicated, confined, or fed growth stimulants. In turn, they produce nutrient-dense, great-tasting meat and eggs for our family and for you who live in the East Texas and Shreveport areas.
We welcome farm visits by appointment–we stay very busy and need to plan to be available for you to come to the ranch! We encourage you to take part in food production by seeing where your food comes from and learning about how it is raised. We look forward to seeing you at the ranch!
No Soy. No Hormones. No Genetically-Engineered Feeds. No Pesticides. No Antibiotics. No Confinement.
Yes, Sunshine! Yes, Pasture! Yes, Minerals! Yes, Sustainability!
Cows eat grass. Chickens eat bugs. Pigs root around outside.
WHAT WE SELL
Grass-fed Beef
Soy-Free Pasture-Raised Pork
Soy-Free Pasture-Raised Chicken
Soy-Free Pasture-Raised Eggs
Soy-Free Pasture-Raised Thanksgiving Turkeys
HOW WE SELL
Direct to consumer via local pickups and through several area health food stores. Visit our new online store to learn about how to buy and to see what's in stock.