Soy-Free Pasture-Raised Eggs
Our pastured eggs are soy-free, naturally raised, and available to those in the East Texas (Longview, Tyler, Marshall, Jefferson) and North Louisiana (Shreveport, Bossier) areas.
Eggs are one of the most complete and nutritious foods available, especially when they come from chickens raised exclusively on pasture and supplemented with a GMO-free and soy-free feed. We do not add dyes to the feed to force the yolk color to be darker. The color of our egg yolks is related to seasonal forage availability. The yolks are naturally deep golden orange, full of vitamin A and other essential nutrients.
Our eggs are more than just "free range" or "yard eggs." Our hens are in totally mobile paddocks that can travel anywhere on our ranch. We move the hens at least 2-3 times per week, ensuring clean scratching ground, lots of bugs, and plenty of fresh forage to eat to make their delicious, nutrient-dense eggs. They are quite different than the hens raised in warehouse type barns with little to no access to outdoors and fresh air. They can sunbathe, dustbathe, scratch and peck, chase bugs, nibble on fresh forage, and enjoy being chickens. Because of our regular rotation model, disease and filth are avoided without chemicals.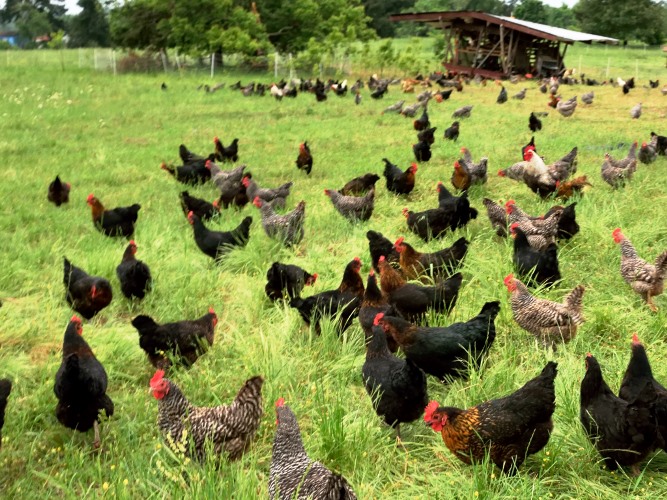 Our eggs are totally unprocessed except the occasional light chemical-free washing when necessary. You will find that the eggs vary in size, taste, and color from season to season and from hen to hen. Some eggs will have double-yolks. All eggs will be fresh and delicious!
Our customers agree that they are delicious in taste. We've had comments about customers running out of our eggs and being forced to buy "store eggs," only to hate the lack of flavor! Try pasture-raised eggs!
How To Order
Visit our new online store to see what's in stock and to place your order.
Shelf Life of Pasture-Raised Eggs
Lots of folks ask how long our eggs will keep. The "official" shelf life of an egg is 4 weeks after its pack/collection date. However, we have personally consumed eggs that were over 3 months old (kept refrigerated) without noticeable deterioration in quality. Unwashed eggs can sit on the counter for several weeks in a relatively cool house and be perfectly fresh.
We recommend keeping the egg refrigerated, since we have already chilled them prior to sale, and allowing them to come back to room temperature may cause sweating and deterioration of the natural coating on the egg (called the cuticle or "bloom"). Eggs can also be cracked, whipped, and frozen for use in baked goods, and will keep in the freezer for a year.
Meet our Chickens
Here are a few of our laying chickens–truly free-range!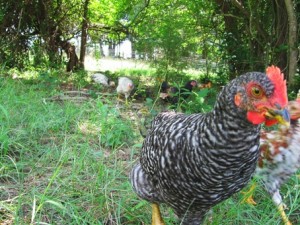 Check out this video of our laying flock with their new Egg-Mobile! Learn about the breeds we raise and the color eggs they lay:
Compare the color of our egg yolks to store-bought. You can't see it, but there's a huge difference in flavor, too!