Soy-Free Pasture-Raised Eggs
Our pastured eggs are soy-free, naturally raised, and available to those in the East Texas (Longview, Tyler, Marshall, Jefferson) and North Louisiana (Shreveport, Bossier) areas.
Eggs are one of the most complete and nutritious foods available, especially when they come from chickens raised exclusively on pasture and supplemented with a peanut-based, GMO-free and soy-free feed. The yolks are naturally deep golden orange, full of vitamin A and other essential nutrients. You can purchase a-la-carte as we have eggs available, or you can join our standing order list to receive them regularly.
$6.00/dozen
Here are a few of our laying chickens–truly free-range!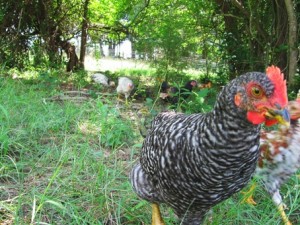 Check out this video of our laying flock with their new Egg-Mobile! Learn about the breeds we raise and the color eggs they lay:
Compare the color of our egg yolks to store-bought. You can't see it, but there's a huge difference in flavor, too!