Soy-free Pasture-Raised Turkey
Our pastured turkeys are soy-free, naturally raised, and available to those in the East Texas (Longview, Tyler, Marshall, Jefferson) and North Louisiana (Shreveport, Bossier) areas.
Available in-season only, these are the tastiest turkeys you'll ever meet. After their 2-3 week stay in our open-air brooder house while they are growing their big-bird feathers, they are raised exclusively on pasture. We supplement a NON-MEDICATED, non-soy, non-GMO feed.
Our turkeys never experience debeaking or crowded conditions or artificially colored feed (did you know conventional turkey feed is often sprayed green so the birds will eat it?? Maybe they just want some grass!). Another big problem with the commercial turkey industry is that many birds are fed ARSENIC to prevent disease and to encourage growth under stressful conditions. Our turkeys are healthy naturally, meaning NO ARSENIC. They have plenty of space, forage, fresh air, and sunshine!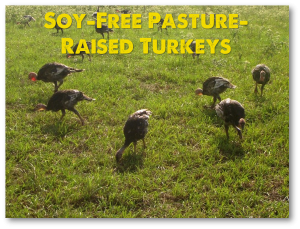 Eat a delicious meal during the holidays knowing that the farmers who raised your turkey care about a truly natural habitat and good, chemical-free nutrition for your food.
Because we can only raise a limited number of turkeys, we offer the opportunity to reserve yours. There is no deadline, but reservations are first-come, first-served.
Visit our new online store to see what's in stock and to learn how to reserve your special Thanksgiving turkey. Sign up for our newsletter for first notice!
The bird comes ready-to-cook and frozen and includes the giblets. Pickup is available via any of our area drops or at the ranch by appointment. Read the product page to learn more.