We love showing off our ranch and animals during farm tours here at Shady Grove Ranch! However, the demands of a farming lifestyle are tremendous, and as much as we would like to spend our days chatting about sustainable farming and rotational, mineral-intensive grazing techniques, we really need to spend most of our time working to produce excellent quality meats and eggs. But here is how you can see what we do!
Free Farm Tours
We offer free group farm tours a few times per year in order to provide an opportunity for you, the eater, to learn about where food really comes from and to see what makes our operation different from any other. We appreciate your flexibility in working with our schedule and look forward to seeing you at the ranch!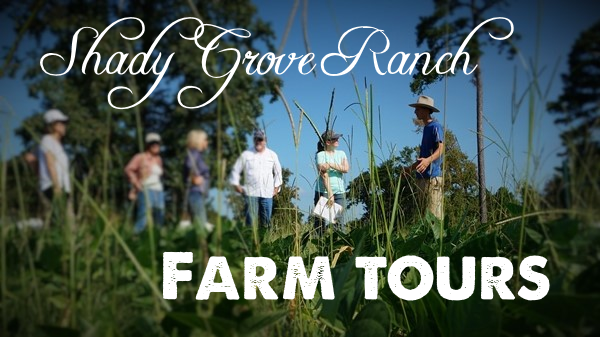 What to Expect (aka "Can I bring my kids?")
It's hard to know what to expect from one of our farm tours until you experience it. We are a working ranch and so we do not operate a petting zoo. Our livestock aren't pets–though they are used to being around people, they are not tame enough to pet, hold, etc.
Our objective during farm tours is to let you see, smell, and hear what a production farm could look like–one that doesn't use confinement, feedlots, cages, and the like. We'll be honest–we're trying to win you to supporting a natural, outdoor, rotational model, instead of the chemical- and equipment-intensive, animal-abusing, high-performance, low-nutrient commercial models of farming. Our tours are very education-oriented, so it's mostly discussion and viewing. We'll talk a lot about rotational methods, genetic engineering, predation protection, and natural fattening of livestock on pasture. The best way to understand why you should choose pasture-raised over conventional, and even so-called organic products, is to see what pasture-raised actually looks like.
So can you bring your kids? Absolutely! We desire for them to learn that farm animals are for food and can and should be raised in a humane, sustainable system. Please be aware that our tours move fast because there's a lot of ground to cover (literally!), and there's not much entertainment for the kids besides being outdoors, watching our chickens and pigs and cows do what they are supposed to do, which is scratch and peck and root and forage. We try to adapt each tour to its specific audience, so we'll try to involve your kids, whatever their ages, by asking questions and pointing out little-known facts (like the fact that not all pigs are pink, and how to tell if a chicken is a girl or a boy). But for biosecurity and safety reasons, you get to meet our animals from across the *electric* fence.
What Else to Expect
After you place your farm tour RSVP, mark your calendar so you don't double-book yourself! We'll contact you within 24 hours to confirm receipt of your reservation. Then we'll contact you the week of the tour to confirm your attendance and to send directions and instructions for your visit. Please read this second email thoroughly before you depart so you can make the most of your visit to the ranch.
Tips for Visiting Shady Grove Ranch
HAZARDS. We have working dogs, farm animals, electric fences, fire ants, and large equipment. Please keep children close by and warn them about the hazards on a real farm. Please do not feed, pet, or chase the animals. For their safety, children should be on their best behavior and not be running amok. We recommend talking to them ahead of time about potential dangers on a real farm and the importance of learning about where our food comes from.
HOW TO AVOID FIRE ANTS. Fire ants are probably our #1 annoyance out here (immediately followed by gophers!). To avoid getting fire ants up your pants, frequently check the ground where you are standing, and take a glance at your shoes to make sure there aren't any ants crawling there. Keep an eye on kids' feet, too. Rubber boots are the best protection against ants, which tend to swarm during wet, warm weather.
PHYSICAL REQUIREMENTS FOR TOURS. Our tours are walking tours. Depending on the current situation of animals, farm tours can cover almost ¾ mile (1200 yards) from the time you leave your car to the time you return to it. The terrain is slightly hilly pastureland with some dirt paths. Strollers must be suitable for off-road terrain.
ATTIRE. Please dress for the weather and bring bottled water. It is usually cooler and breezier here than in surrounding areas. Layering in colder seasons is very helpful since our east Texas can go from very cold to very hot in a short time! Shade is NOT always available during the tour, so protect yourself from the sun if necessary. Closed-toe shoes are a must for your safety and comfort (mud, manure, fire ants, thorns, etc). We recommend long, breathable sleeves, a brimmed hat, comfortable full-clad shoes like rubber boots or cowboy boots or sturdy tennis shoes, and a bottle of water and a camera.
PHOTOS. Can you take photos? Sure! Please excuse any project messes you may see. As we've said, this is a real working farm, and we've always got some project going on! You can even tag our Facebook page: Shady Grove Ranch.
FACILITIES. You may use our restroom in our home, but we do not have a public restroom at this time. The nearest gas stations are 6 miles (Avinger) or 9 miles (Jefferson) away.
CONTACT. If you will be late or your plans for visiting change, you can reach our office at 903-665-7076 or Jerica at 903-241-2775.
PURCHASING. We encourage purchases while you're visiting the ranch and thank you for your support of our work! You may pre-order online and we can have your order ready (please give us 2 days' notice if you choose this option), or you can purchase a la carte after the tour. Please plan to pay via cash or check. We accept credit cards with an added convenience fee.
Farm tour attendees get 10% off their purchases that day (excluding bulk, samplers, and volume discounts). Meat comes frozen and will travel well without a cooler, provided you go straight home and aren't traveling more than an hour or two. Bring a cooler!
---
2017 Free Tour Schedule *RSVP Required*
Saturday, Mar. 25 at 10am
Saturday, Apr. 22 at 10am Canceled due to rain!
Saturday, May 20 at 10am
One more tour coming late September/early October. Date TBA. Sign up for our newsletter for notice.
RSVP by phone 903-665-7076 or by using the form below.
Private Groups/Field Trips
If your group would like a private tour or field trip, we offer private 1-hour tours for $100. There is no limit on group size, but we suggest capping attendance at 30 people so everyone can see and hear. Private tours must be scheduled 2 weeks in advance. Weekdays only.
For the Farmers
We have lots of inquiries from other folks interested in sustainable farming themselves. You are welcome to join in on our monthly farm tours for consumers. If you need more technical assistance, we offer consulting services by appointment.
---
RSVP for a Tour of Shady Grove Ranch in 2017
We will contact you via email with directions and a confirmation closer to the date you select. Thanks for your interest in Shady Grove Ranch!