Shady Grove Ranch Products in Jefferson, Texas
Are you looking for grass-fed beef and soy-free pasture-raised chicken, pork, and eggs near Avinger, Jefferson, Linden, Marshall, or Texarkana? What could be better than buying directly from the ranch? We produce all our own meats and eggs and have them processed at local inspected facilities as appropriate. You cannot match our quality and flavor for pork beef, chicken, turkey, and eggs. We raise all our animals in a low-stress environment where they have constant and plentiful access to forage, sunshine, and fresh air. We never use any genetically-modified ingredients or antibiotics or hormones in our feeds. Eggs are collected fresh daily from our mobile hen paddocks. Meats are processed at optimum seasons throughout the year and stored in our walk-in freezer. We strive to produce tasty, easy-to-cook, nutrient dense foods here at Shady Grove Ranch.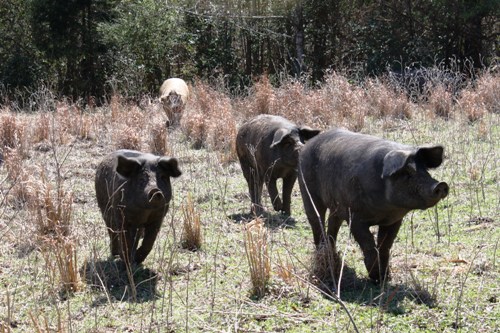 To order for on-farm pickup, visit our new online store. Select "On Farm Pickup" during checkout, and enter the date you would like to come to the farm. We do not yet keep regular on-farm store hours, so we require a scheduled pickup for purchase on-farm. Please be respectful of our time and call before you come. We are typically quite flexible on pickup dates/times, but we need to make sure we're available to meet you.
Want to see it in real life?
Farm tours are offered a few times per year. Visit this page for more detail about farm tours.
Coming soon: Farm Store!
We are in the process of constructing a farm store that we hope will become a local source for wonderful homemade real-foods like sauerkraut and bone broth plus hand-picked high-quality grocery goods, in addition to our home-grown passion: pasture-raised meats and eggs! Stay tuned to the newsletter for our grand opening in 2018!