Shady Grove Ranch Products in Longview, Texas
Looking for grass-fed beef and soy-free pasture-raised chicken, pork, and eggs near Longview, Kilgore, Gilmer, Marshall, or Tyler? We are now in 3 stores in Longview, plus we offer a regular delivery option for direct purchasing. We strive to make getting nutrient-dense, delicious meats and eggs easy for fellow east Texans. Our eggs are collected fresh daily from our mobile hen pasture paddocks, and our meats are processed at optimal seasons and stored in our walk-in freezer facility. One of our primary goals is to have all products available year-round.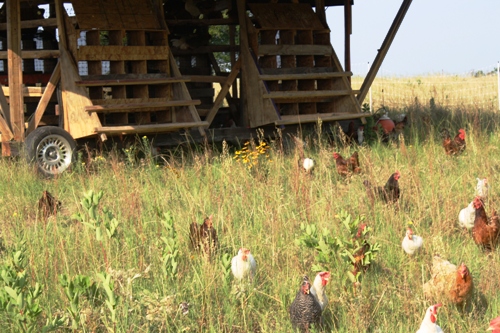 Longview, Texas Purchasing Options
Longview Delivery
We deliver to Longview monthly on the 2nd Thursday at 10:30. Pickup is fast and easy! Check out our online store for information about where/when the next drop in Longview is. Don't forget to sign up for our newsletter to get email reminders for each delivery.
Longview Retail Locations
We also now have several Longview stores that carry our products. Here are some of the items they carry. Look for the Shady Grove Ranch label!
Granary Street on Tuttle Blvd. behind Papacita's. Open M-F 10am-7pm:

Ground Beef
Beef Chuck & Arm Roast
Beef Stew Meat
Whole Chickens
Chicken Thighs
Chicken Wings
Eggs

Jack's Natural Foods at 400 E Loop 281. Open M-S 9am-6pm:

Select Chicken, Pork and Egg items

Vitamins Plus inside Drug Emporium at 2321 W Loop 281. Open M-S 9am-9pm and Sunday 10am-6pm:

Select Chicken, Pork, and Beef items