Shady Grove Ranch Products in Shreveport Bossier, Louisiana
Looking for grass-fed beef and soy-free pasture-raised chicken, pork, and eggs near Shreveport, Bossier City, Haughton, Minden, Ruston, and Vivian? You've come to the right place! We have several options for buying naturally raised meats and eggs in the Shreveport/Bossier areas, including delivery, farmers' market, and several retail locations.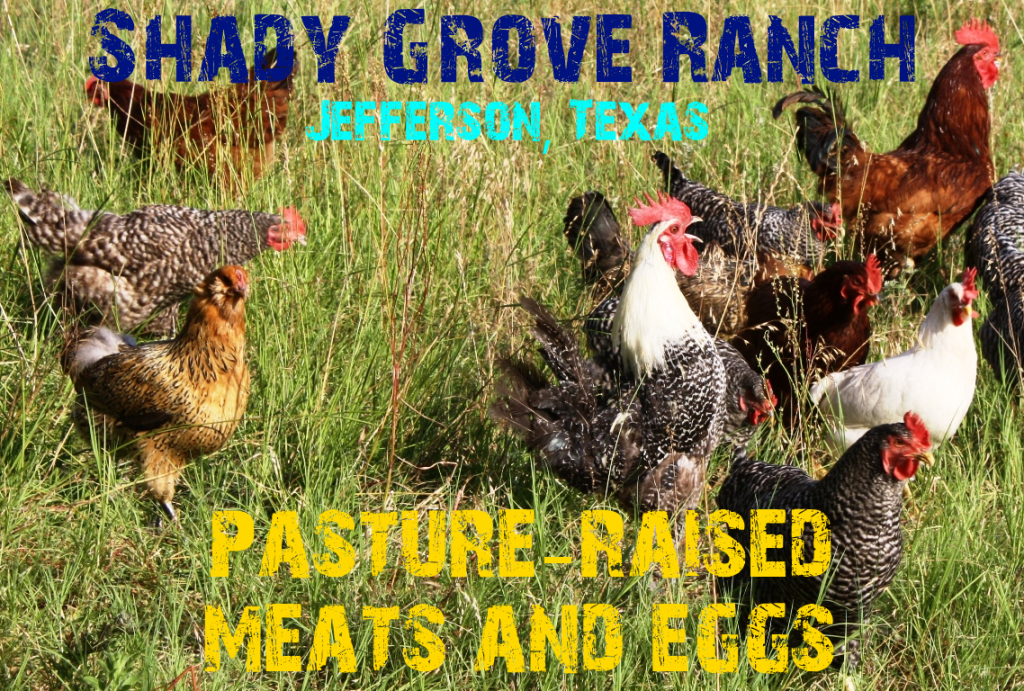 Click to jump to the available Shreveport/Bossier purchasing options: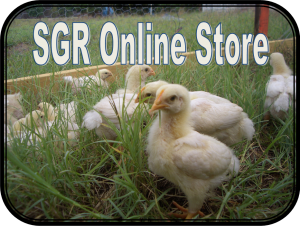 ---
Shreveport Delivery
Winter Routine
Approximately November through May while the Shreveport Farmers Market is closed, we deliver to Shreveport every other Saturday at 11am. Orders are due the Thursday before the drop. You can sign up for our newsletter to receive reminders for each drop. Visit this page to see our current Shreveport delivery schedule.
Summer Routine
Approximately June through August and again in October and the early part of November, we attend the Shreveport Farmers Market, where you can purchase from our on-hand inventory (and we do try to stay well-stocked at market!), or you can pre-order to ensure you get exactly what you need.
For the non-market-goer, we also offer an "after-market drop" every other Saturday at 6022 Line Ave. This is for pre-orders only–order by Thursday to utilize this drop option. Sign up for our newsletter for notice of the delivery dates. Visit our new online store to learn how it works and to see the upcoming Shreveport delivery schedule.
Shreveport Farmers Market
You can order at market or we can pack your order ahead of time. We accept pre-orders each week as long as they are submitted by the Thursday evening before the next market day. This gives us time to pack and total your order on Friday. Visit our new online store to see what's in stock and to place your order! You can also show up and purchase products we have on hand. Sign up for our newsletter to get regular notice of what's in stock and on sale.
Shreveport Farmers' Market is open every Saturday in June-August and late October – late November. We bring all of our products with us so you can buy any cut we have in stock. Bulk purchases require advance notice, but are available with no delivery charge.
---
Shreveport Area Stores
Can't make it to market or one of our drop-offs? Our products are carried at a number of local stores in the Shreveport/Bossier areas. Here are the products they carry.
Sunshine Health Foods Shreveport at 5751 Youree Dr.:

Chuck Roast
Ground Beef
Sirloin Steak
Pork Breakfast Sausage
Pork Chops
Eggs

Sunshine Health Foods Bossier at 3011 Airline Dr. Ste. E:

Chuck Roast
Ground Beef
Sirloin Steak
Beef Stew Meat
Pork Breakfast Sausage
Eggs

Vitamins Plus Shreveport at 5819 E Kings Hwy:

Beef Liver
Ground Beef
Beef Stew Meat
Beef Chuck Roast
Boneless Ribeye Steak
Pork Chops
Sliced Pork Belly (Uncured Bacon)
Pork Breakfast Sausage
Eggs
---