Looking for grass-fed beef and soy-free pasture-raised chicken, pork, and eggs near Marshall, Waskom, Carthage, Elysian Fields, Hallsville, Tatum, De Berry, Karnack, and Harleton?
We are not currently in stores in Marshall, but we are have started offering a monthly delivery option in Marshall. Please sign up for our newsletter and select the Marshall region of interest to get notice of when/where these deliveries will be. We are excited to be working in the Marshall area at last!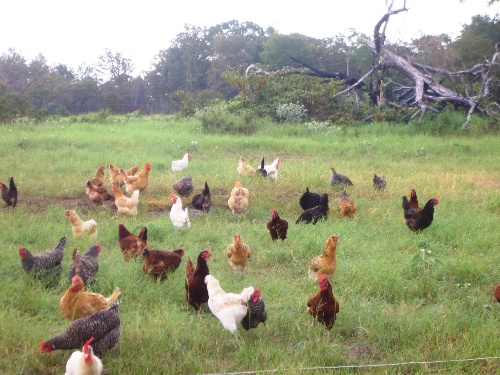 We strive to make getting nutrient-dense, delicious meats and eggs easy for fellow east Texans. Our eggs are collected fresh daily from our mobile hen pasture paddocks, and our meats are processed at optimal seasons and stored in our walk-in freezer facility. Our beef is 100% grass-fed and never fed hormones or antibiotics. Our pork is soy-free and totally pasture-raised. The pigs are an old-fashioned breed that produces unbelievably tender and buttery chops and bacon. Our meat chickens are moved daily to new pasture and never fed growth stimulants or antibiotics. Our meats are easy to cook and tender and juicy.
Current Marshall Purchasing Options
Marshall Delivery
We deliver to Marshall monthly on the 2nd Thursday at noon.
Visit our online store to see the current Marshall delivery schedule and to place your order. Sign up for our newsletter for regular notice of delivery dates.