Doing a pig roast? Hosting a luau? Want a freezer full of pork cut to your specifications? We have new lower pricing on whole hogs delivered to the local custom packing house.
Our new pricing on "live whole hogs" covers sizes as small as 30 pounds for whole pig roasts up to 400+ pounds for stocking your freezer with delicious pork cuts.
Our hogs are domestic breeds (mix of Large Black and Red Wattle) with rich, juicy flavor. Our pigs are raised exclusively on pasture in a regularly rotated grazing system. We do not use any chemicals on or in the pigs, and their supplementary feed does not contain soy or GMOs. These guys are raised outdoors on live pasture for their entire lives, and the quality of rearing shows in the meat.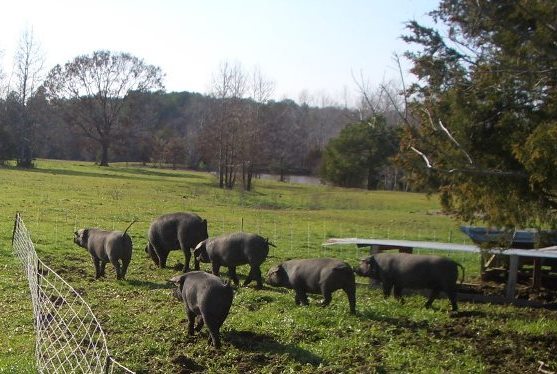 Prices include transportation to Caddo Packing in Marshall, Texas. Butcher fees are the responsibility of the buyer.
Whole Hog Pricing
| | |
| --- | --- |
| Size (hanging weight) | Price (including delivery to Caddo Packing) |
| 30 lb | $5.00/lb |
| 50 lb | $4.00/lb |
| 70 lb | $3.25/lb |
| 100 lb | $2.50/lb |
| 150 lb | $2.25/lb |
| 250 lb | $2.00/lb |
| 400+lb | $1.80/lb |
**Price includes one-way transportation to Caddo Packing in Marshall, TX. Buyer is responsible for all butcher fees. Pickup meat at butcher.
Options: Dehair or skin depending on size of hog. Remove head, remove feet, filet, butterfly, keep organs/fat/skin.
We can typically get a hog in to the processor within a week of when you call. Discounts for multiple hog purchase. Call us to order!
Looking for an easier way to get pork?
We know buying a whole hog isn't for everyone. We also sell pork by-the-cut! Check out our online store to view all our delicious pork options. We have everything from easy-to-cook pork roasts to MSG-free link sausages and smoked hams and bacon to gourmet-quality pork chops. Our goal is to make it easy to get the best pasture-raised meats onto your table.