We have a guest food artist for this recipe! Dawn, one of our long-time customers, shared with us this deliciously rich recipe for her version of Boeuf Bourguignon. She calls it Boeuf Biere. Tell us what you think!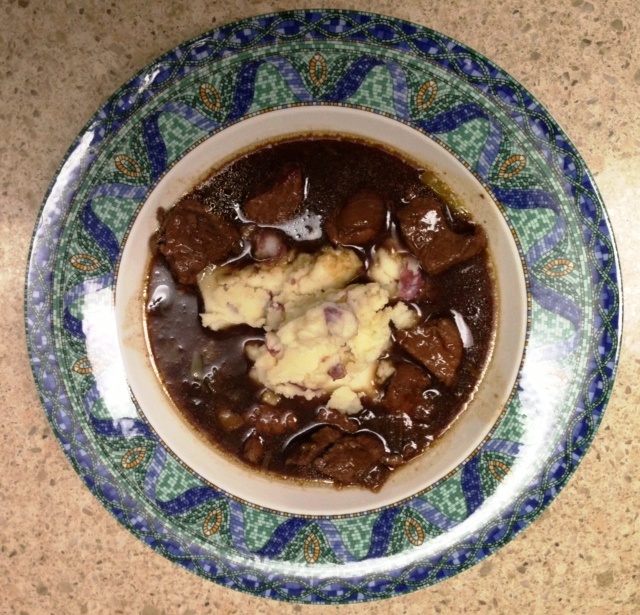 Boeuf Biere ("Manly Boeuf Bourguignon")
2013-08-22 09:50:15
Ingredients
2 lb grass-fed beef stew meat
butter
3 or 4 large onions, chopped
2 leeks (optional), chopped (white and light green parts only)
1 Tbsp brown sugar
2 Tbsp flour or other thickener
2 C homemade beef stock
2 C dark beer
3 Bay leaves
2-3 Sprigs of fresh thyme
Sea salt to taste
Instructions
Preheat oven to 325.
Brown the stew meat in butter in the Dutch oven on the stovetop. Remove stew meat and set aside.
In same Dutch oven (and yummy browned butter...add more if necessary), caramelize onions and leeks. Add 1 Tbs brown sugar to aid caramelization.
Add flour/thickener and stir to coat.
Add stew meat, stock, beer, and herbs.
Cover the Dutch oven and transfer from stovetop to the oven. Bake for about 2 hours. Remove bay leaves before serving.
Notes
This is a one-pot dish! I use a cast iron Dutch oven.
Serve with rosemary mashed new potatoes (with skin and lots of butter). If you like mushrooms, sauté them after the beef and set aside...add them with the beer and stock.
Shady Grove Ranch http://shadygroveranch.net/