Basic Bone Broth or Stock Recipe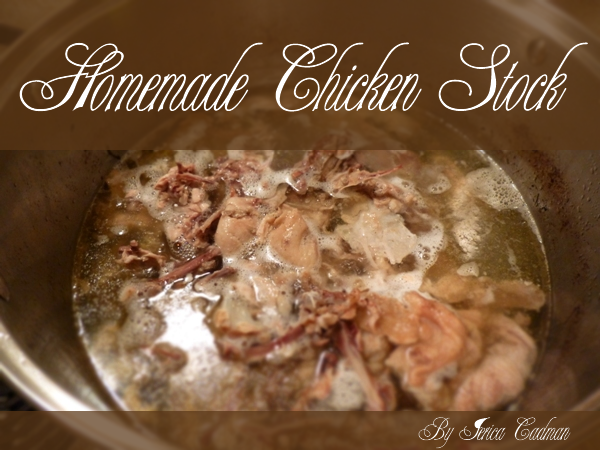 Fill a stock pot (anything from 6 quarts to 5 gallons—whatever you have that fits on your stove!) with soup bones, chicken carcasses, fat trimmings, and vegetable scraps (peelings, carrot tops, etc). I also suggest adding a pound or so of washed chicken feet for every 2 gallons of stock pot space. This will significantly increase the gelatin content of your broth.
Generally speaking, you will probably want to keep beef, pork, and chicken bones separate so you can have each of the three types of broth. There is nothing wrong with mixing them, but you may want to preserve the differences in taste. Beef has a stronger flavor than chicken, so beef bones will produce a darker, more pungent tasting broth which may not be appropriate for meals like chicken and dumplings. Likewise, if you want to make things like dark brown gravy or French Onion Soup, you will want to use pure, dark beef stock, not part-chicken stock. Pork broth is in-between in color and intensity, and I often use it interchangeably with the other two.
Pack everything loosely, not cramming it in, but not allowing too much free space either. Add some coarsely chopped vegetables, such as carrots, celery, parsley, and onion, to improve flavor and color of broth. Shift as necessary to fill in the gaps between the large bones. You are going for "not too swimmy" so that your broth doesn't come out tasting watery. You will get the hang of this by recognizing when you achieve rich flavor and by seeing whether your broth turns to jello in the refrigerator, which it will if you use enough bones and cook them long enough.
Cover the bones and veggies with cool water, leaving at least 1" at the top of the pot to allow expansion of the water when it is hot. Be sure all the bones are covered with water, pushing them down if necessary. If they seem to want to float, let them, but move things around about halfway through so all the bones are exposed to the hot liquid for a long time.
Add one teaspoon of apple cider vinegar per gallon, adjusting accordingly for how full you have your stock pot. This helps to draw the minerals out of the bones.
Bring the pot slowly to a boil on around medium heat. Skim any foam that rises off and discard. Cover, and reduce heat to a gentle but visible simmer and cook for 24-30 hours. No need to stir or season. Just simmer.
**If you have meaty bones you are hoping to glean meat from, I suggest removing them after about an hour of simmering to pick the meat off. This is done for two reasons: 1. The meat will become rubbery if overcooked, and 2. The bones will begin to disintegrate, making deboning very difficult if you wait until the end. If you don't get to the demeating process in time, don't worry too much. Your stock will still have lots of good protein in it at the end, and your dog (or cat) will get an extra treat when you turn the bones (and meat) over to him!
After 24-30 hours of simmering, turn the heat off and let your broth cool. Working with boiling liquid is pretty dangerous, so I like to let mine cool for 12 hours or so before handling it. **If you plan to do a second batch with this set of bones, cool it just enough to safely handle it, a few hours perhaps. Keep it covered while it is cooling to prevent contamination.
Next, strain the bones and veggies out of the liquid. I recommend a mesh net sieve or colander to catch all the bits of bone that may have disintegrated. When you get to the very bottom of the pot, go ahead and discard the portion of the stock with lots of sediment. This is bits of bone and does not have very good texture. Keep the fat layer on the broth, as it will help preserve the finished broth for long-term storage in the fridge. Broth stored in a clean glass container with an undisturbed fat layer will keep several weeks in a cold fridge. Alternately, you can freeze the broth and store it frozen for a year.
I almost always do a second round of broth from the same set of bones. Just repeat the whole process after smashing the bones back down into the pot a bit. You will find that they settle, anyway, and you don't need as much water the second go-round. The second broth won't be as rich or gelatinous, but it still makes a great nutrient-dense substitute for water in various savory recipes, and it's a great way to capture more value from your soup bones.
When you're done with the bones, discard them (aka give them to your pets, or your neighbor's pets—once they are cool, of course!).
**A note on the vegetables: I know it seems very strange and wasteful to throw away perfectly good vegetables. But they have been boiled for 24+ hours, so their texture is basically mush, and many of the nutrients and flavor have been transferred to the broth. If you have chickens or pigs, give them the veggies. Your dog or cat might even like them with a little salt.
At this point, you may season the broth with salt and pepper, but don't go overboard, as this is just stock, meaning you will make other things with it and can always season it more later. Refrigerate or freeze. I like to reserve some for making soup with the meat I picked off the bones for dinner that day. I don't like doing all that work and having nothing to show for it at supper!
A well-made broth will turn jelly-like when refrigerated due to the presence of gelatin, found in connective tissue. If it does turn out watery, just pack your pot more densely next time. To salvage a watery-tasting broth, boil it uncovered until it is reduced by 1/3.