Chicken Pot Pie Recipe
I grew up on chicken pot pies from the freezer section at the supermarket. They were comforting, filling, and most of all—easy to prepare. So when Matt and I went to a real food diet, I always longed for that creamy filling with sweet peas, savory carrots, and potatoes that still had enough firmness to be able to tell they were potatoes—not at all like a pot roast where the flavors and textures of the vegetables diminish because of long cooking times. Pot roast is good, but it's got nothing on pot pie! And then there was the flaky, tender crust! Oh, how could I ever recreate that comforting dish without using artificial thickeners, trans fat, and hours slaving over a hot stove?
Well, good news. It's actually pretty easy and has fairly low hands-on time. That is generally my criteria for a go-to recipe.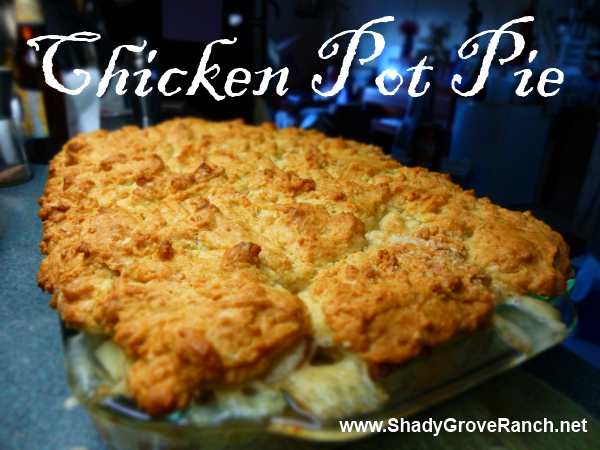 Here's the recipe I use which implements more of a biscuit top crust than an enveloping pie crust, but I'm ok with that because it means fewer dishes to wash!
Chicken Pot Pie Filling:
4 Tbs butter or lard
½ cup flour
1.5 cups milk or cream or half and half (for milk intolerance, use homemade broth)
2 cups homemade broth
2 lb potatoes, peeled (if desired) and diced
1 large onion, diced
2 cups cooked chicken or turkey, cut into bitesize chunks
Seasonal veggies, such as 4-6 carrots, diced or 1 cup garden peas or 1 medium head of broccoli, chopped
Salt and pepper to taste
Crust:
Double-batch of Jer's Perfected Biscuits
Directions:
Melt fat in large (3-4 quart) saucepan over medium-low heat. Whisk in flour and stir continuously for 1 minute. Whisk in broth, stirring rapidly to break up lumps. Stir in milk or cream and continue stirring until smooth. Return to simmer, stirring very frequently and cook for 1 minute. Add potatoes, onion, and carrots (NOT peas or broccoli if using), stir and reduce heat to low. Cook, stirring frequently for about 10 minutes or until potatoes are just starting to get tender. They will cook more later—just give them a head start. Remove from heat and stir in chicken, peas and broccoli (if using). Season to taste.
While potatoes are cooking, prepare biscuit topping using the "drop biscuits" liquid amount. Preheat oven to 400F. Grease a glass 9×13" baking dish with butter or lard.
Place the combined and seasoned chicken-veggie-gravy mixture into the 9×13" pan. Drop the dough by spoonfuls across the top of the chicken mixture. Try to distribute it evenly, then spread it with a fork to close the gaps between drops. The dough will rise slightly during baking, but you don't want big gaps.
Bake at 400F for 30-45 minutes or until the sauce is bubbling and the biscuit topping is golden brown.
To reheat: Cover with foil and bake at 350 for 10 minutes then remove foil and continue baking 5-10 more minutes until hot.