Home-Cured Bacon
The title of this recipe is a slight misnomer. Our process described below does not actually cure the bacon. Cured bacon is marinated or seasoned and left to … cure … before being smoked, sliced, packaged, and sold. It has a fairly long shelf life because of the chemicals added during processing (such as preservatives, nitrates/nitrites, or high-nitrate celery salt). Our bacon is just meat–no seasonings, no salt, no chemicals. Technically, it's just fresh pork.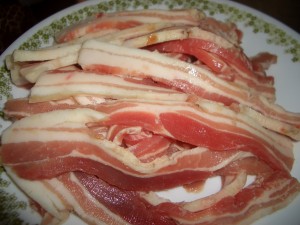 We sell two different forms of pasture-raised bacon, but neither is processed in any way. We sell regular sliced bacon and slabs of pork belly. The only difference between the two is that pork belly can be cured and smoked the traditional way; our sliced bacon is simply sliced pork belly. Since it is pre-sliced, it cannot really be cured or smoked, but it can be seasoned in such a way that it resembles cured bacon. The great thing about that is it contains no chemicals–only the seasonings you choose to add.
You can simply fry the bacon and add salt to enjoy the natural porkiness of uncured bacon. Or you can make it taste like what your brain tells you bacon tastes like. Here's how…
To "Home-Cure" one pound of sliced pork belly ("bacon"):
Mix 2 Tbs sugar and 1 Tbs salt in 1 pint warm water.
Add 1 or 2 shakes of Liquid Smoke. (Optional–this is what gives it a smokey flavor.)
Place bacon in deep glass container and cover with water mixture. Separate bacon strips so that each is fully exposed to the solution. Add a little water to cover if necessary. Cover with lid, place in refrigerator overnight.
To cook:
Remove strips of bacon from water mixture and pat dry. Fry on cast iron skillet to desired crispness–hotter for squishier bacon; cooler and slower for more crisp bacon. Or use in recipes that call for bacon or salt pork.
**Tip: reserve the bacon fat for frying veggies or eggs or making biscuits. It will impart a lovely baconey flavor to whatever you fry in it!