Soy-Free Pastured Chicken
Our pastured chickens are soy-free, naturally raised, and available to those in the East Texas (Longview, Tyler, Marshall, Jefferson) and North Louisiana (Shreveport, Bossier) areas. Visit our new online store to check out what's in stock and to place your order!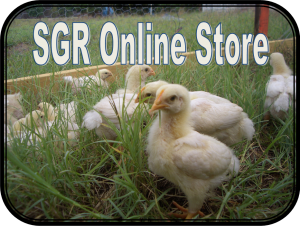 Our chickens go beyond "free-range." They are raised outdoors in portable electric net pens that are usually about 1/10 of an acre. They are moved weekly to ensure access to fresh green grass, crunchy grasshoppers, and warm sunshine. These birds are different from other so-called "free range" broilers. After they stay in our open-air brooder house for the first 2 or 3 weeks, they are not raised on a dirt/litter floor inside a building. They are outside on grass!
They receive a peanut-based feed that is GMO-free and soy-free. We also supplement our own raw skim milk when available to provide probiotics and extra protein. We never give them medications, appetite stimulants, hormones, steroids, or wormers. We have our meat birds processed by a state-inspected fellow pastured poultry producer that meets our standards for safety and cleanliness.
Why is our chicken so expensive?
We are committed to providing soy-free, non-confinement farm products. We also want to provide meats that are processed locally by trusted, clean processors. Most meat birds produced in the USA are highly confined, fed antibiotics routinely, and never see a bug (much less eat one!) during their entire lives. They are fed a soy and corn feed mix that is almost certainly genetically modified. See this article on soy for details on the hazards of consuming large amounts of this highly propagandized legume. We pay much more for feed than conventional operations.
We also tend to our chickens multiple times daily to ensure they have plenty of fresh water and green grass with a healthy supply of insects and bugs. We must take care to watch the weather closely to ensure our birds aren't injured by extreme temperatures or stormy conditions they are certain to experience on pasture. Our birds are able to run around in the sunshine, enjoying God's beautiful earth as they grow up to serve their purpose in our lives. We believe you get what you pay for, and when you buy our chickens, you get the most nourishing, delicious meat that money can buy. Check out our cooking section to read articles on how to stretch the meats you buy.