Shady Grove Ranch offers gift certificates for your real-food-loving loved one. We have birthday, Christmas, and Love-themed designs. The gift amounts are determined by you.
Please note that we do not ship products at this time, and your recipient must pick up products at the ranch in Jefferson or at one of our area delivery locations. Please call us if you have any questions.
Birthday Gift Certificate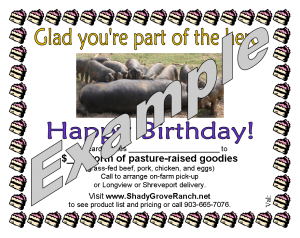 A cute picture of our Large Black pasture-raised pigs. "Glad you're part of the herd. Happy Birthday!"
Christmas Gift Certificate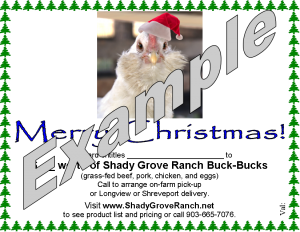 "Merry Christmas" from a Shady Grove Ranch Santa Chicken, entitling the bearer to some Shady Grove Ranch "Buck-Bucks."
Valentine's, Anniversary, or other Love-Theme Gift Certificate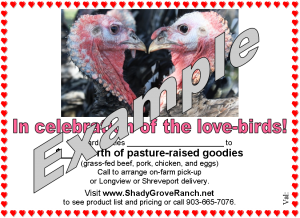 Our pasture-raised turkeys share some love with your celebrated loved ones. Give this gift on Valentine's Day, an anniversary, or just to say "I love you," using great-tasting, naturally-pasture-raised meats and eggs.
We can mail these gift certificates to you or to your recipient on your behalf. Call us if you have a special idea for a customized card, and we'll be happy to design one to fit your needs.