Come see us at the Shreveport Farmers Market in 2013!
Here is a downloadable map showing our location and parking options. We are in a totally new spot this year! We can't wait to see you there!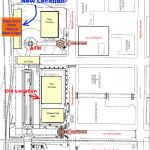 Festival Plaza, downtown Shreveport
Shady Grove Ranch will be at the Shreveport Farmers Market every Saturday this summer selling our pasture-raised beef, pork, chicken, turkey, and eggs. Sign up for our newsletter to get notice of our monthly "Shady Deal." Come do your grocery shopping at a fun place full of locally-raised goodies!
Avoid the line!
This year, we'll have a special line set up for pre-orders. Just look for the sign on our table, walk right up, tell us your last name, drop off your payment, and you're done! Sign up for our newsletter to receive more details.
Shreveport Farmers Market – Summer 2013
Saturdays 7am-Noon
June 1 – August 31
*Special location* June 22. Provenance Neighborhood. Details to come!
Shreveport Farmers Market – Fall 2013
Saturdays 8am-Noon
Dates TBA