So You Want To Visit A Sustainable Farm
You are one in a million, a person wanting so much to understand food production that you're willing to take time out to visit a local farm.
That is exciting, and we are honored to be able to show you our side of the story… the story of a really-pasture-raised, grass-centric, rotational-grazing Crazy Farm, right here in East Texas.
We are a truly family-run farm, and pretty much all the time, all hands are on deck! But we feel it's important to carve out some time each spring and fall to invite you, the consumer, to come and learn about a better way to eat.
What to Expect During Our Farm Tour
Our tours are fun, but a bit physically challenging! Wear comfortable, closed-toe walking shoes or boots, and be prepared to cover a good amount of East Texas pasture terrain while observing our methods for raising grass-fed-and-finished beef, rotationally-pastured meat chickens, really-pasture-raised hens, pastured pork, and if you're especially lucky, you might get to meet our small flock of weed-whacker goats and our Thanksgiving turkeys!
Our tours are engaging and educational, and though you won't get to touch any livestock, (Sorry! They're not pets!) we do have some farm critters that love a good ear-scratching, such as our friendly farm dogs, Toby and Cricket, and our farm kittens and their mom, Luna, Tiger, Scratch, Brownie, and Lizard (the 2-year-old named that one…).
Depending on the particulars of the day you visit, you may get to experience a cow move, observe a poultry shelter move, gobble at the turkeys, toss some veggies to the pigs, and check out the forage crops we've planted for the season. This is a real working farm, so you never know exactly what a tour day will hold, but we get wonderful feedback from visitors to our tours, and we know you'll enjoy it and learn a lot!
Sample Some Real Farm Eats
After the tour concludes, there will be an opportunity to sample some simple home-cooking so you can experience how delicious and easy real food can be and get inspired to take back control of your diet. Take home a free copy of the recipes, too!
Market Hour and A Special Tour-goer Discount
After you sample some farm fare, please consider supporting our work through purchases during the "Market Hour" which will commence immediately after our return from the tour. Farm tour attendees get 10% off their orders (regular-price items only, and excludes bulk purchases, volume deals, and special orders [like turkeys]). All our products (except eggs and soap) come frozen and will easily last the trip home in a simple picnic cooler, so don't forget to bring a cooler!
Arrival on Tour Day
When you arrive, park according to attendant's instructions, then visit our check-in table to … check in! Ha! You will receive a pre-printed name tag as proof of ticket purchase, and so we can get to know you better! One of our favorite things about being a small farm is that we can provide customized service to you, our customer. We really couldn't do this without you!
What to Bring / Amenities
We request that you plan to bring your own bottled water, but we will provide additional water for those who run out. There is a portable restroom available as well as a restroom in our home, for those with small children or other particular needs.
We strongly suggest dressing for the weather—our weather can go from quite cold to very hot in just an hour, and our hill here in East Texas tends to run a little cooler than surrounding areas! Wear a hat, breathable sleeves, and closed-toe shoes. We strongly suggest tall-sided boots to help deter fire ants, thorns, and mud.
You are welcome to bring a camera, but please try to point it away from any project messes you may see! Remember—we're a real, working farm, and we always have more to do than time to do it! Feel free to tag us on Facebook @Shady Grove Ranch.
Hazards and Our Expectations
Pretend you're a farmer for a day, checking out the beauty of your workplace, but taking care while you do it! Please be mindful of pasture holes, electric fence, thornbushes, fire ants, large equipment, construction zones, and farm critters. We have several varieties of wildflower that have wicked but invisible thorns, so best practice is to ask before you pick! We want your first experience with us to be a wonderful and fun one!
We humbly but firmly ask that you inform your children of the expected behavior on a real farm. There are real dangers on a working farm, and it is important that we all be respectful of those as well as other people around us. Children (and adults) should not touch or enter without first being invited or instructed. Do not feed, pet, chase, grab, or shout at the livestock. Do not throw anything at any time. No smoking on the property is permitted at all. Please put your trash in the proper receptacle.
Advice for Bringing Children
Our terrain may be too difficult for most strollers, but a large-wheeled wagon would be suitable to pull toddler-age children. For very young children, we recommend a backpack-style carrier. For older children, remind them that God gave them two strong young legs to explore a beautiful farm with. Enjoy getting some exercise! We will also provide a farm scavenger hunt game for children to complete during their visit.
Weaker Walkers
We have very limited ATV seating for those who tire during our farm journey. Please don't hesitate to ask us or any of our staff for assistance.
Purchase Your Tour Tickets Here
Tickets for either fall 2017 farm tour date are on sale now. (Note there will be no live turkeys during the November tour…) Prices are $5 per person age 3 and older. (2 and under are free.)

Refund policy
Up to one week prior to the tour date, you may cancel your reservation for full refund less processing fee of 10% ($0.50 per ticket). No refunds starting 6 days preceding event. If weather causes a cancellation, you may transfer your ticket purchase to an alternate date, exchange it for product credit, or receive a refund in full.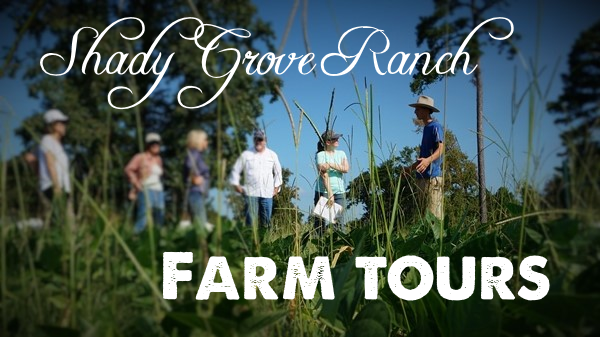 ---
Private Groups and Field Trips
If your group would like a private tour or field trip, we offer private 1-hour tours for $100. There is no limit on group size, but we suggest capping attendance at 30 people so everyone can see and hear. Private tours must be scheduled 2 weeks in advance. Weekdays only. Call us for information: 903-665-7076
For the Farmers
We have lots of inquiries from other folks interested in sustainable farming themselves. You are welcome to join in on our monthly farm tours for consumers. If you need more technical assistance, we offer consulting services by appointment. Call us for information: 903-665-7076