It's January, and sometimes you just want a hot, rich meal full of beef and gravy to make the winter go by faster. Here's my easy recipe for beef tips with rice. Use cubed sirloin steak or beef stew meat to set up an easy and delicious from-scratch meal.
Beef Tips with Rice and Gravy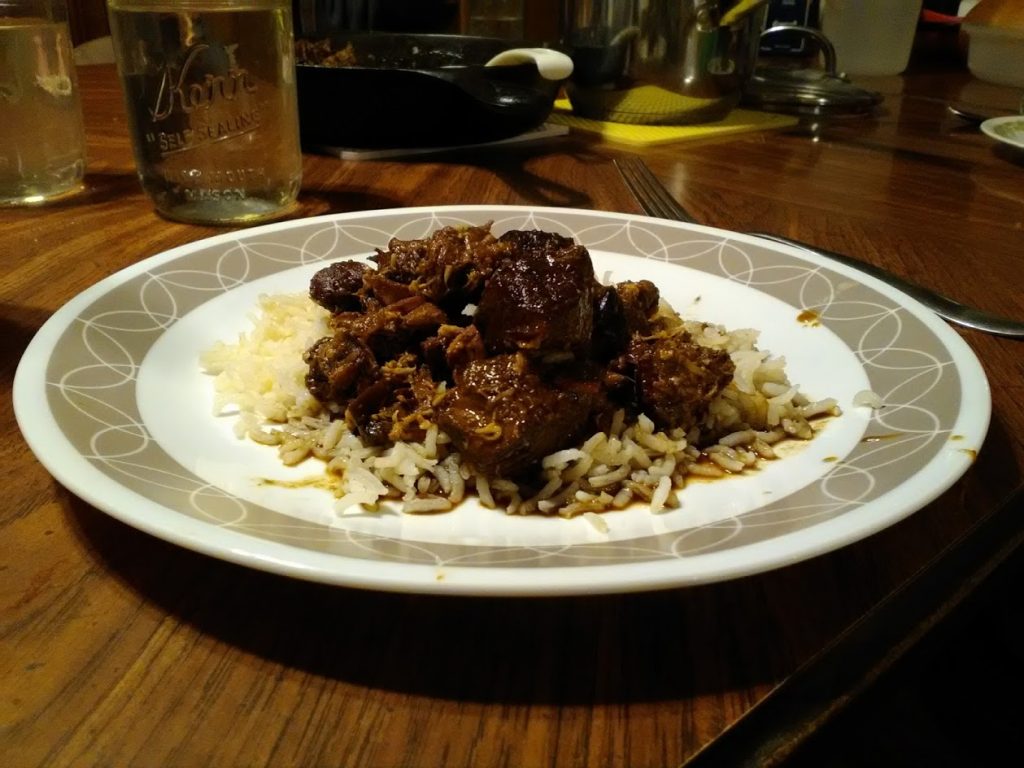 Beef Tips and Gravy
2017-01-03 13:07:39
Ingredients
1-2 lb Grass-fed Sirloin Steak, Cubed into 1.5" pieces
1-2 cups homemade bone broth/stock
Salt and Pepper to taste
1-2 cups sliced mushrooms, optional
1/2 medium onion, chopped, optional
1 Tbs. cornstarch or arrowroot powder mixed into 1/4 cup cool water, optional
Instructions
Optional: Brown meat on hot cast iron skillet with a small amount of lard, tallow, butter, or coconut oil. Transfer meat and any accumulated juices to slow cooker. (If you just throw the raw meat into the slow cooker, that's ok, too!)
Deglaze pan (optional): while pan is still hot, pour a small amount of broth on and immediately stir with a whisk to release any browned bits on the pan's surface. Pour this into the slow cooker.
(If you didn't brown the meat, just pour the broth straight into the slow cooker.)
Add onion, if using. DON'T add the mushrooms yet!
Set the cooker to low for 8 hours or high for 6. Add a generous amount of sea salt and pepper, if desired.
When the slow cooker is done cooking, strain the meat out to a platter or dish. Put a small amount of butter, lard, tallow, or coconut oil into a cast iron skillet over medium heat. When fat is melted, add mushrooms and saute until tender. Prepare cornstarch mixture. Pour remaining broth from slow cooker into the skillet with mushrooms and bring to a simmer. Stir in cornstarch and return to simmer and cook for 1 minute. Adjust seasonings. Pour gravy over meat and serve with rice.
**If you want to skip the entire last step and not thicken the gravy with cornstarch, that is fine! It will still be delicious straight out of the slow-cooker.
Notes
This recipe is very flexible depending on what you like and how much hands-on time you want with your meal. Enjoy!
Shady Grove Ranch http://shadygroveranch.net/