Our pastured chickens are soy-free, naturally raised, and available to those in the East Texas (Longview, Tyler, Marshall, Jefferson) and North Louisiana (Shreveport, Bossier) areas.
Video: Chicken Dinnertime!
Flyer: What's so different about our chicken?
Our pastured chickens are really raised on pasture, with full-time access to grass, bugs, and sunshine. Check out our flyer to read about what makes our chickens so different. Be aware of where you buy, and when possible, go see the operation for yourself. Here is a picture of our birds being raised for meat: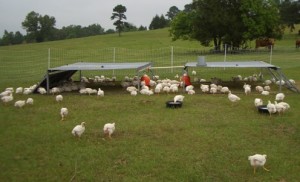 We move their pen every few days to ensure they have fresh grass to nibble and new bugs to chomp on. We give them free-choice access to a soy-free, peanut-based feed mix that is GMO-free. We also supplement clabbered milk (in the large black bowls) to give the birds the ultimate quality protein and probiotics that we can. No stinky ammonia-filled houses, no windowless, dirt-floor confinement. Just fresh air, sunshine, and insects to nibble!