Bacon – Sliced Pork Belly
We sell uncured, unseasoned, totally un-tampered-with "bacon" (technically it's called sliced pork belly, whereas "bacon" is pork belly that is first cured with sugar and salt and usually smoked, then sliced). Most folks are used to taking the sliced meat out of the package, throwing them on a hot skillet, and cooking them to their desired doneness.
But our "bacon" is a little different, because the only flavor it has built-in is pork. So to give people a baconey experience with our sliced bellies, we used to make detailed recommendations about how to season the "bacon." First you mix warm water with two parts sugar, one part salt. Then you add a little liquid smoke, and soak the strips of bacon in the brine overnight in the fridge. Cook as usual, blah, blah. Then we got smart and realized that our sliced pork belly is so good that all it needs is a little salt!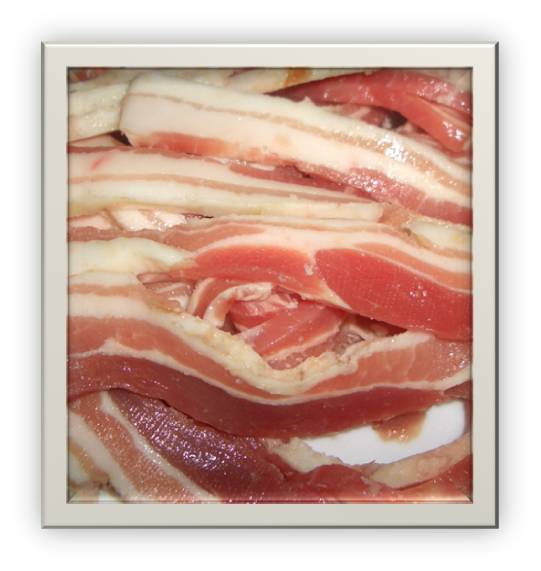 We challenge you, if you have never tried our sliced pork belly "bacon" before, to try a package of this chemical-free goodness. You don't have to do anything special. Just thaw, cook, and add sea salt to taste right after you take it off the skillet (otherwise the grease evaporates and the salt won't stick). It is fantastic! Here's what you do: The bacon recipe.
Shady Grove Ranch Bacon (AKA Sliced Pork Belly)
Thaw sliced pork belly. Heat dry cast iron skillet over med/medium low heat (about 4 out of 10). Fry bacon to desired crispness, turning at least once. Immediately after removing bacon from skillet, salt to taste with sea salt. You want to get this done before the bacon surface loses its glossiness—the salt will stick better. Enjoy. That's it!
Tip for small families:
If you do not want to use your whole pound of bacon at once, when you remove it from the freezer, thaw it for only a few minutes, separate the pieces, and repack and refreeze what you wish to use later. Bacon will stand up just fine to partial thawing and re-freezing.
If you want even smaller portions, you may also cut the slices in half with kitchen scissors. This works well if you have a small skillet, also.